What do you usually wear?
We usually wear smart black and usually without ties, but if you have another colour scheme in mind please contact to discuss.
Do you take breaks?
We don't need breaks during the ceremony, but if we are playing for 2 or more hours, a 10 minute break every 50 minutes would be needed. Playing for this length of time is very intense!
What if my ceremony or event is held outdoors?
We are happy to play outdoors (weather permitting, if the temperature is too low this will not be possible). Of course wind and rain might also make this impractical-I would have to assess on the day... We would need to be under a covering of some kind to protect our instruments. If the piano is required, we would also need a socket. If no socket is available the set will be acoustic cello and semi-acoustic guitar using battery-operated amplification for the guitar and voice.
Do you perform with other musicians?
We perform as a duo, two performers, four instruments! If however you required a trio this could be arranged. Please discuss with us. We have used a second cello or a violin on previous occasions. Like us, our friends are professional performers with whom we work all the time. A third musician would of course increase the cost, please ask.
Do we need to meet up beforehand?
This is probably not necessary.We can do our communication by phone, Skype, Zoom, Social Media platforms or by email. We would be happy to meet with you if you live close enough to Richmond, North Yorkshire.
(keep scrolling down!)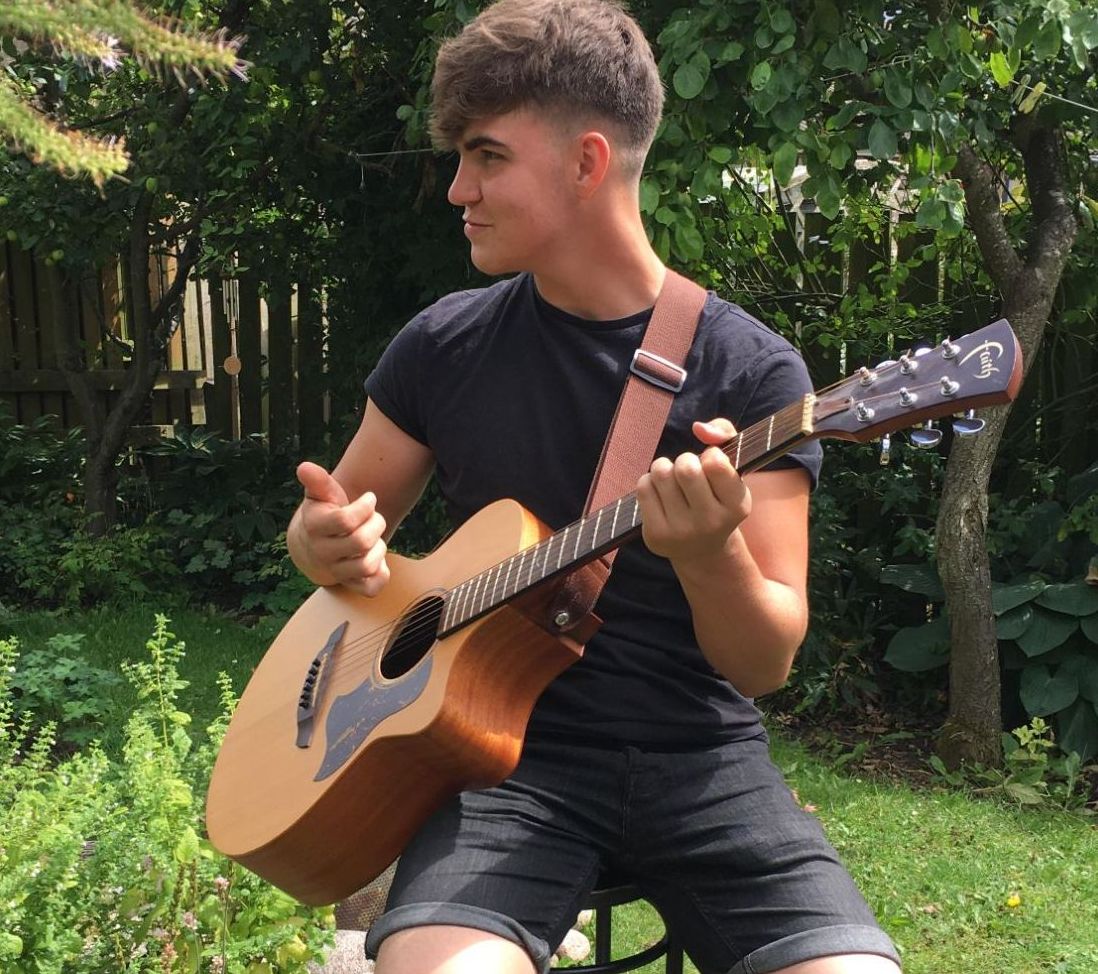 Do you ever play with amplification?
The cello is a powerful instrument and doesn't often need amplification. The stage piano needs a socket, the acoustic guitar may also be amplified but doesn't need a socket because it can run off it's own power. The music we play will be perceptible in the background, though to make it too prominent can sometimes make guests feel uncomfortable and we are very mindful of that. During a Wedding ceremony for example, only the stage piano (and if necessary the acoustic guitar and voice), may be amplified. We are very careful with our volume control. Some people request purely acoustic cello and guitar for the ceremony and this can of course be accomodated.
Are you static within a venue? We can move around in the venue, if this is required, but please bear in mind the piano is harder to move so could take longer. The beauty of this combination is that the duo could split and play in different locations of the venue very easily if required. There could for example, in one area be some solo cello and in another some jazz piano!
Can you help me choose the music? Can I request music?
Yes of course. If there is a piece you particularly want that isn't in our repertoire we could transcribe it for a small fee, please ask..As you can hear from the clips, our music is very varied, beautiful Baroque Music through to contemporary songs by charting artists.
What if a Wedding ceremony starts late?
This doesn't happen very often but if your wedding ceremony is delayed we will play mellow music for your guests before you arrive. We do not book weddings back to back so will not have to disappear before the end! However please keep in mind that overtime is charged for events that start more than 30 minutes late. (£30 per half hour late).
Refreshment. We don't ever specify that we require refreshment, but it is always gratefully accepted! Playing requires huge amounts of concentration and burns more calories than you would think!!
(keep scrolling down!)
Each event is quoted individually. Depending on where it takes place, we may have to include some travel expenses, we base every trip from our location in Richmond Yorkshire. If travel is required we will separate that out in the quote, we will of course confirm everything in writing when we send you the Booking Form.
Do you require a Deposit?
Yes, we require a deposit (please see the Event Booking Form (contract) on receipt), to secure the booking and the balance payment one week beforehand.
...And finally...what about Covid-19.....?
If necessary we can do everything purely instrumentally, so no singing at all, singing behind a face mask wouldn't be great! Should the need for face masks arise, we will of course make sure they match, not only our suits but each other...! Being a Duo, we can tuck into pretty small spaces if we have to, to fulfil Social Distancing requirements.